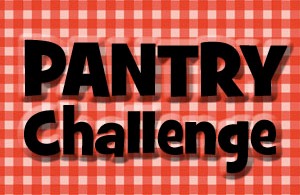 So, even though this month's goal is to clean out and organize our pantry for the
Pantry Challenge at Good Cheap Eats
my mom decided to contribute by cleaning out her pantry and sending food home with us. I did tell her it was ok and let her know that anything that wasn't eaten in the next couple of weeks is going to the food bank and she agreed. Therefore we got a large influx of food. I tried to build some of the meal plan around it.
The theme of the next 2 weeks is quick meals. I am taking my LCSW exam next Thursday, which was
goal 1 of 2012
. I am talking quick and easy foods to make.
Normally, I really try to make sure we're eating well balanced healthy meals with a variety of flavors along with plenty of veggies and with as many organics as we can afford. But this and next week the emphasis is on quick!
I think we did really well this week. I did run to Publix and spend about $65 but a lot of that was Miss G and food for our life group (bible study). Yup in my disorganization I volunteered to feed our life group the weekend before my big test. So, even though it was painful and I had to do a lot of cognitive rehearsing I threw frugality to the wind for this meal.
I did see that Boston Butt was at Publix for $1.99 (which is actually decent for publix recently but sounds really expensive) and went from there. I definitely focused on quick rather than cheap but I think it'll pay off in the long run. I think the meal is going to cost me about $35 total. I told Mr C I probably could have just pizza for that price. Oh well.
Other than my expensive Sunday night meal all of our dinners did actually come from the pantry this week which makes me happy. =)
Monday:
Sesame oven baked tofu
and chicken with broccoli, mixed veggies, and brown rice
Kyle: Waffles a la Kyle ie. the best waffles you have ever eaten! Recipe coming next week
Crockpot:
Thursday night soup
with pintos, kale, carrots, mushrooms, and green beans. This was really GOOD!
Sunday: EASY Cooking for the life group
Southern Plate
style
BBQ Sandwiches
, chips, coleslaw, and
Butterfinger Cake.
By the way Mr. C says he hates pulled pork but
liked this one
.
Look at how everyone else is doing over
here
.